Water Features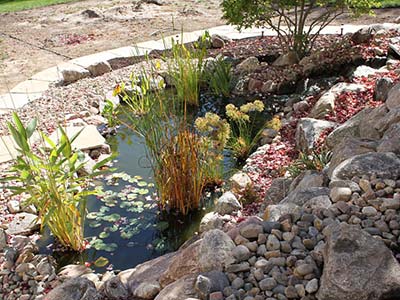 If you feel that your landscape is missing a certain wow factor then perhaps the installation of a water feature is what you need? Ponds, fountains, cascades and waterfalls are only a few features that can add a sense of ambience, harmony and beauty to your landscape setting. The addition of any type of water feature will really transform the look and feel of your property as a whole. This is especially true with the sound of nature that will be attracted to your water feature day and night.


Natural Stone Water Features
The use of natural stone when installing a water feature really makes for an effective water feature. This is true whether you are talking about ponds, fountains, or waterfalls and the reason for this is that stone is a natural material and will add a natural feel to the water feature.


Centerpieces in your Landscape
Water features such as a fountain is a stunning centerpiece in any landscape setting. It is important to note that not all kinds of water features will work for every property. The size of the space allocated for your water feature can very well determine what feature will work best for you. No matter how small or large your area is there is a water feature that will be right for you. So let Radik Landscape Construction help you take your outdoor space to the next level.

Water features are effective focal points but they do require some upkeep. It is important that you have all the correct information regarding your water feature and how to keep it in its original condition; both visually and functionally. At Radik Landscape Construction we provide our clients with all the maintenance information and assistance they require.


Getting Your Project Started
If you have now made the decision to install a water feature on your property then let the team at Radik Landscape Construction do all the work for you. We will take all the stress out of your installation project and take care of everything for you. Though there are a lot of water feature kit options on the market, it is recommended that you have a water feature custom designed and installed for your property.

Radik Landscape Construction can guide you through the design, selection of materials, organizing excavation and equipment and of course the actual installation of your water feature. Feel free to browse through our portfolio to see some of our custom designed water feature installations. Give us a call today and get your free consultation from a professional water feature company and we will get you on your way to having a landscape that will be the envy of the entire neighborhood.

Click on the images below to view a larger display.


Photo 1

Photo 2

Photo 3

Photo 4

Photo 5

Photo 6