Landscaping Installation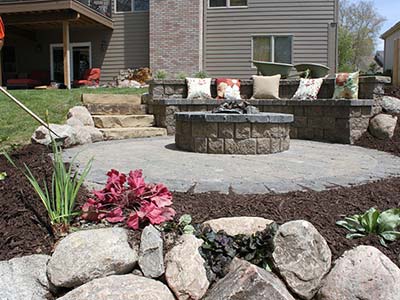 We are a landscaping company composed of expert personnel with decades of combined experience in the field of landscape design and installation. Our portfolio includes some of the best landscaped properties in Omaha, Lincoln Metro and surrounding regions of Nebraska. Please connect with us soon if you need a competent and reliable landscape contractor to work on your outdoor improvement project.


An Impressive Portfolio of Completed Projects
At Radik Landscape Construction, Inc, we take pride in our ability to create one-of-a-kind landscapes for our clients. We have been doing this for years, and we are glad that all of our clients are more than satisfied with the results that we've provided them with.

Our past and present clients can also attest to the kind of landscape installations that we have created for them. In fact, most of our clients in the Omaha region are amazed at how we transform their outdoor areas into private sanctuaries where they can relax as well as entertain.

Our impressive portfolio does not only include landscape installation projects but also landscape design creation and hardscapes. Aside from our long list of residential landscaping projects, we have also completed numerous projects for large estates and commercial properties in the areas we serve.


Personalized Landscape Design
Our primary aim at Radik Landscape Construction, Inc is to provide clients with top-notch customer service. We don't settle for mediocre landscaping designs. Instead, we strive hard to provide clients the kind of landscapes that they need and want. We do this by collaborating with them during the design phase to listen to their ideas and preferences. Our creative design team will then incorporate these ideas into the design plan to give them landscapes that will reflect their personality and lifestyle.

We also use modern design tools when working on landscape design projects. These tools help us finish the task faster and create stunning designs for our clients.


Landscape Installation Performed by Expert Crews
If you decide to hire our installation services, you are assured that the people working on your property are all experienced and highly trained in their respective field of landscaping. We have a dedicated plant expert who will handle the softscaping part to ensure the growth and health of installed plantings.

We will also send certified installers and skilled masons to work on the various hardscape elements. They can expertly work on your walkways, retaining walls, fire and water features, and outdoor living amenities, such as patios, pool decks, and outdoor kitchens.


We Create Your Dream Landscape
At Radik Landscape Construction, Inc, we guarantee clients that they will be getting their dream landscapes when they hire us for their outdoor improvement projects. We have proven this many times in our completed landscaping Installations throughout Omaha, NE. You, too, can have an exquisitely designed and professionally built landscape by hiring us today. Call 402-593-7674.