Landscape Design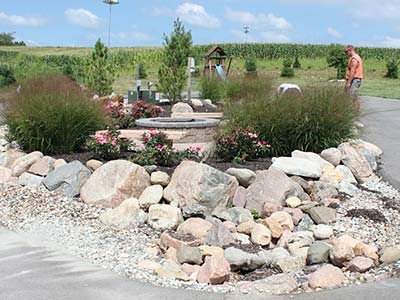 Radik Landscape Construction is a leading provider of landscape design and installation services throughout greater Omaha Nebraska. Let us take your landscaping visions and turn them into a reality. We have extensive experience in creating stunning landscape designs and installations for both residential and commercial properties; no job is too small or too large for us!

We understand that some may see landscaping as a waste of money in these tough economical times. However, if you look at it as an investment for the future and something that you will get so much enjoyment out of it will seem worth it. You will find yourself spending much more time outdoors when you can add an outdoor living area like a patio with an outdoor kitchen. Gone are the days when you had to have your dinner parties inside.

At Radik Landscape Construction we believe that by enhancing the look of your landscapes you will also be increasing the value of your home or business. We can transform the look and function of your landscapes and make your property the place to be. A new landscape installation will not only increase the value and the aesthetics of your property; but it will also increase your social life!


Landscaping Services
Radik Landscape Construction caters to every landscaping need that our clients have. We will sit down with you and work out a plan that works within your budget range. Our range of Landscape services includes:


Landscape Design
Paver Installation: Patios, Driveways, Walkways
Retaining Walls
Outdoor Living Areas
Water Features
Custom Designs
At Radik Landscape Construction our professional staff members will work with you to come up with the perfect design for your property. Our staff will guide you from the start to the finish of your landscape project and also provide you with all the maintenance information required for you to maintain your new landscapes. From the planning and design to installation and maintenance your landscaping project will be monitored to ensure your complete satisfaction.

We pride ourselves on friendly customer service with a knowledgeable and highly trained group of landscape designers and contractors. Our staff members are trained and highly skilled with some of the best craftsmanship in the industry. They are always on hand and ready to answer any of your landscaping queries and will work out any issues along the way. Our aim is to provide you with a unique custom designed landscape; one that you will enjoy for years to come!


Professional Landscaping
We at Radik Landscape Construction have all the latest equipment to get the job done right and on time. Why worry and stress about where you are going to get certain tools, equipment and machinery from; when you can leave it all up to us? We will take all the hassle out of your new landscape project. All you need to do sit back and watch it all come to life.

Our company has the resources to build a wide range of landscape and hardscape applications. Radik Landscape Construction can also assist you in the product and materials selection for your landscape project. We will assess your property and help you figure out the best product for your landscape installation project. Whether it is deciding on what type of paver is best for your project, the best plant species, or what type of retaining wall product to use; Radik Landscape Construction has it all covered. Contact us today for a free consultation!